Barbara Spevak, Assistant Director & Director of Middle Camp Boys
Aunt Barb has been a part of Tall Pines since its inception in 1996. Aunt Barb was originally hired as the Director of Middle Camp for both the boys and girls. After five years of only working at Tall Pines during the summer she joined us full-time. In her role as the full-time Assistant Director, Barb is in charge of hiring the staff and creating the eagerly anticipated, annual Yearbook. In the summer months she heads outside and supervises all of the campers and staff in Middle Camp Boys. She's also in charge of working with over 100 clients for school and corporate picnics, family reunions, weddings and retreats.
Aunt Barb grew up in Broomall, PA and graduated from Rider University with a degree in Early Childhood and Elementary Education. After moving to Cherry Hill with her husband and two children, she began teaching preschool at M'kor Shalom Synagogue in Cherry Hill. She taught there for ten years before joining the Tall Pines staff full-time. Aunt Barb's children were part of the first class of campers that attended Tall Pines.
---
Barbara "Buffy" Demain, Program Director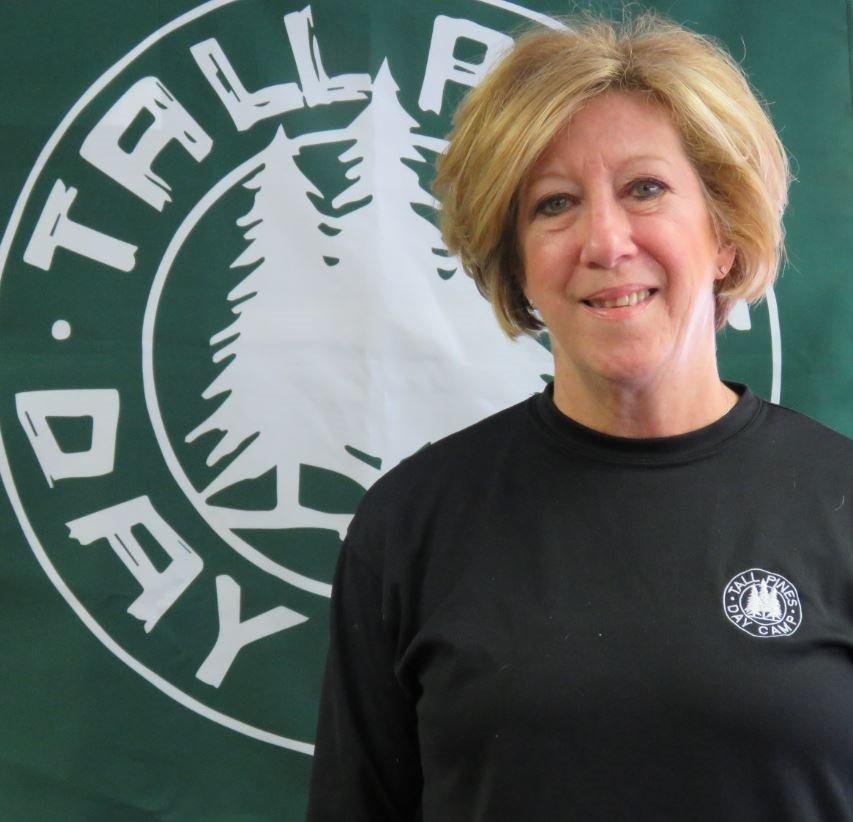 Aunt Buffy began her Tall Pines career in 1997 as a specialist in Cooking.  After four years she was promoted to Program Director on a seasonal basis. She had been teaching pre-school at M'kor Shalom in Cherry Hill for many years. In 2003 she joined Aunt Barb as part of the full-time, year round staff. With two full-time staff members named Barbara working in the office Barbara Demain affectionately became known as "Buffy." Buffy is also known as the "Director of Fun." She plans and coordinates programming and special events for the entire camp. She also supervises all of the summer specialist staff.  In addition to programming, Buffy runs the office, takes care of all the registrations and interfacing with the parents. Buffy also handles the marketing, social media and spends time promoting camp throughout the Delaware Valley. Buffy grew up in New Orleans and thankfully found her way to the East Coast. She currently lives in Marlton, NJ with her husband and has three grown children who all grew up at Tall Pines.
---
Maxine Amon, Assistant Program Director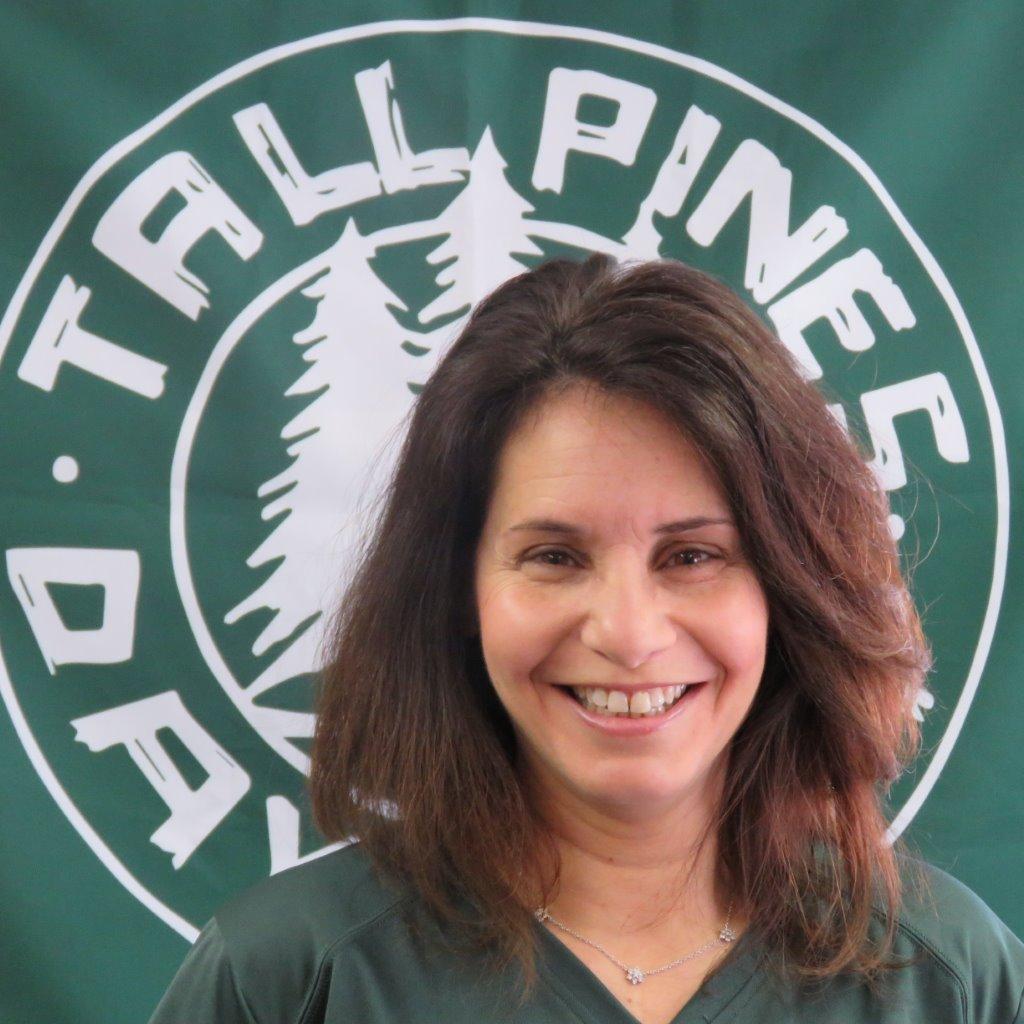 Aunt Maxine has been at Tall Pines for many magical summers. She began working in the office in 2003. In 2008 she became the Director of Junior Camp Girls for one summer. The following summer she accepted the Assistant Program Director's position alongside the greatest sidekick anyone could ever have and she's been here ever since!
After growing up in Cherry Hill, Maxine graduated from the University of Maryland with a degree is in Early Childhood and Elementary Education. She worked as a kindergarten teacher in the Collingswood School District for eleven years and then took time off to have her two boys. She currently works at Temple Beth Sholom Early Education Center teaching four and five year olds. She has been there for fourteen years. Both of her children attended Tall Pines and are currently on staff. For Maxine, "Tall Pines is an amazing place that does magical things. It has given me the luxury of being able to see my own kids grow and mature while having fun!"
---
John Deitelbaum, CIT & LIT Director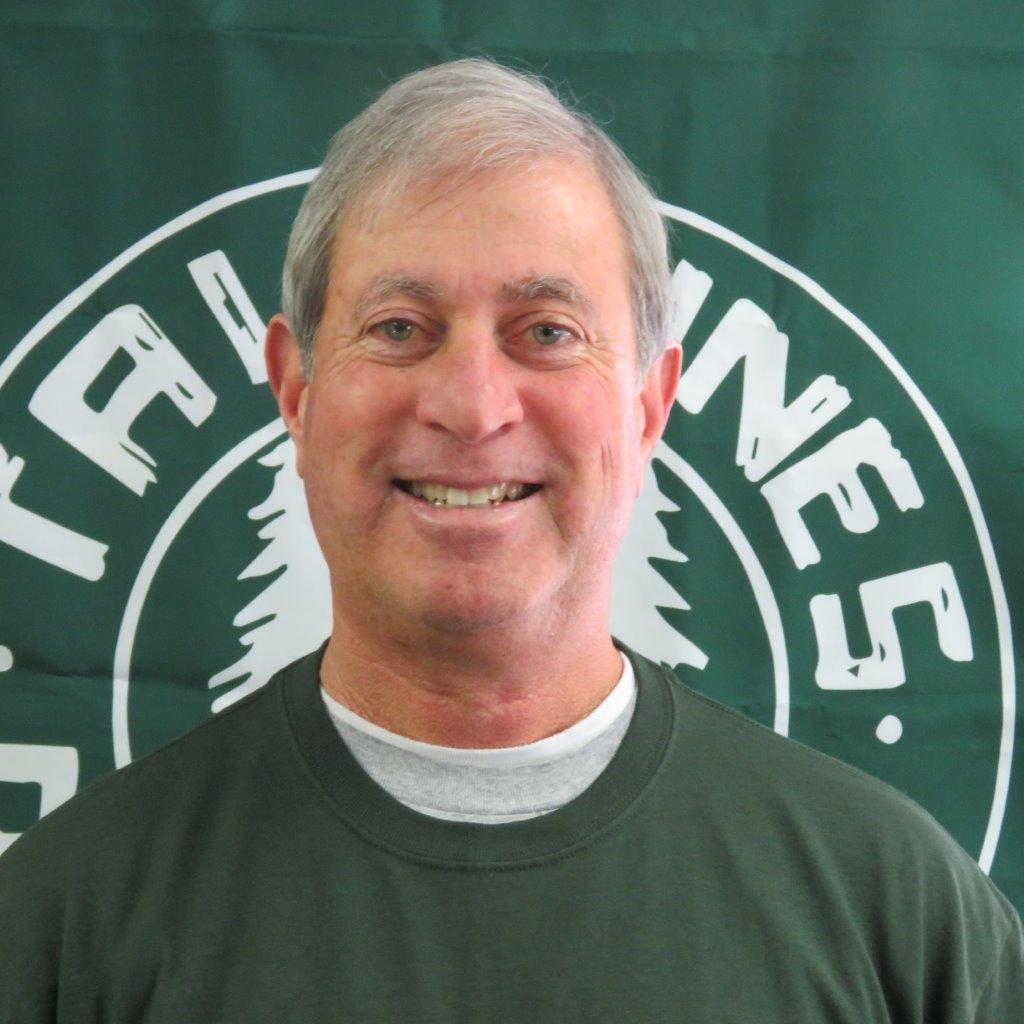 John Deitelbaum has been the CIT & LIT Director since the camp's opening in 1996. Each year John and his staff continue to lead and train the future Tall Pines staff members via the Counselor-In-Training and Leader-In-Training Programs. Ninety percent of the staff that work with our bunks have been trained in our CIT & LIT program.
John grew up in Cherry Hill and has been a soccer coach for almost all of his life. He earned his Bachelor of Science Degree in Sociology & Education from Rowan University. He is certified to teach grades K to 8. John has worked in the Cherry Hill Public Schools since 1980. He is currently the Coordinator of the Environmental Education Program at Mt. Misery. The Mt. Misery program is a highly popular, week long overnight program offered to all 6th graders in the Cherry Hill School District. John resides in Voorhees, NJ with his wife and son.
---
Chris Bennett, Director of Senior Camp Boys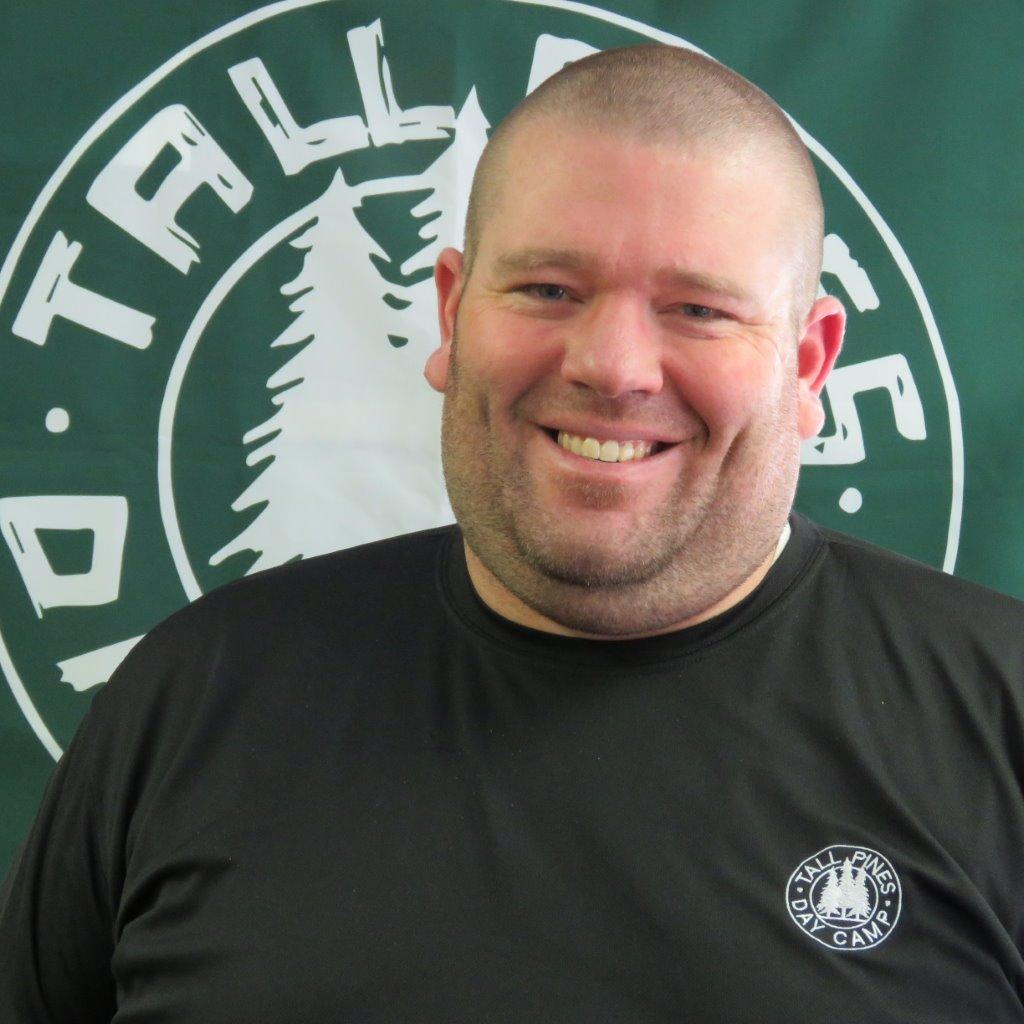 "Bennett" as he is known at Tall Pines, began his tenure in 1999. He has worked in just about every division of the camp. "This camp is more than just a summer job. I have truly grown up here." He was a Senior Counselor in Junior, Middle and Senior Camp, a co-Director of the Athletics Staff and even worked on the Maintenance Staff. Bennett has worked on weekends for the past sixteen years as a member of our Picnic Staff. He is currently the Director of Senior Camp Boys. He has been here so long that some of his campers are now Senior Counselors and have had his son in their bunk.
Chris earned his Bachelor Degree from Rowan University in Mathematics and Secondary Education. He also has his Master's Degree from Wilmington University in School Counseling which always comes in handy when working with older boys. Bennett is on a path to earning his Principals' Certificate. He is currently a School Counselor at Highland Regional High School where he is also the Head Golf coach.  He resides in Delaware County, PA with my wife and three children; two of which attend Tall Pines.
---
Scott Klear, Director of Senior Camp Girls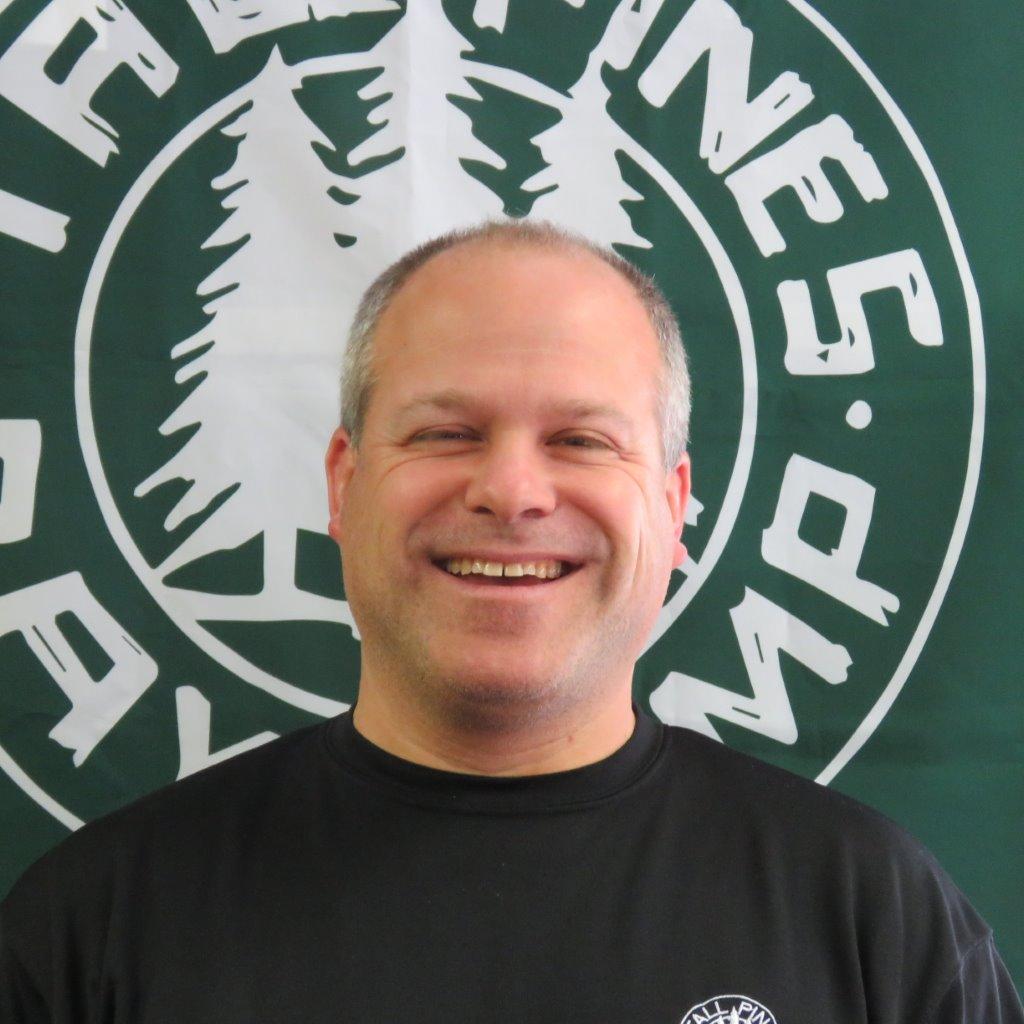 Scott began his Tall Pines career as a Senior Counselor in 2002 after having worked at two other camps since 1986. He is a lifelong camper and staffer. He is now the Director of Senior Camp Girls at Tall Pines. Not only are his two children at Tall Pines but his niece will soon be a staffer and his nephew, a former camper, is now a Senior Counselor. According to Scott, "We are a Tall Pines family and couldn't imagine our world without camp in our lives."
Scott grew up in Philadelphia and obtained his Bachelor's Degree in History from Temple University and a Master's Degree in Elementary Education from Arcadia University.  For nearly twenty years he's worked as a Middle School History teacher in the Cherry Hill School District and currently teaches at Beck Middle School.  He lives in Cherry Hill with his wife, a teacher and former Tall Pines counselor.
---
Rachel Belville, Director of Middle Camp Girls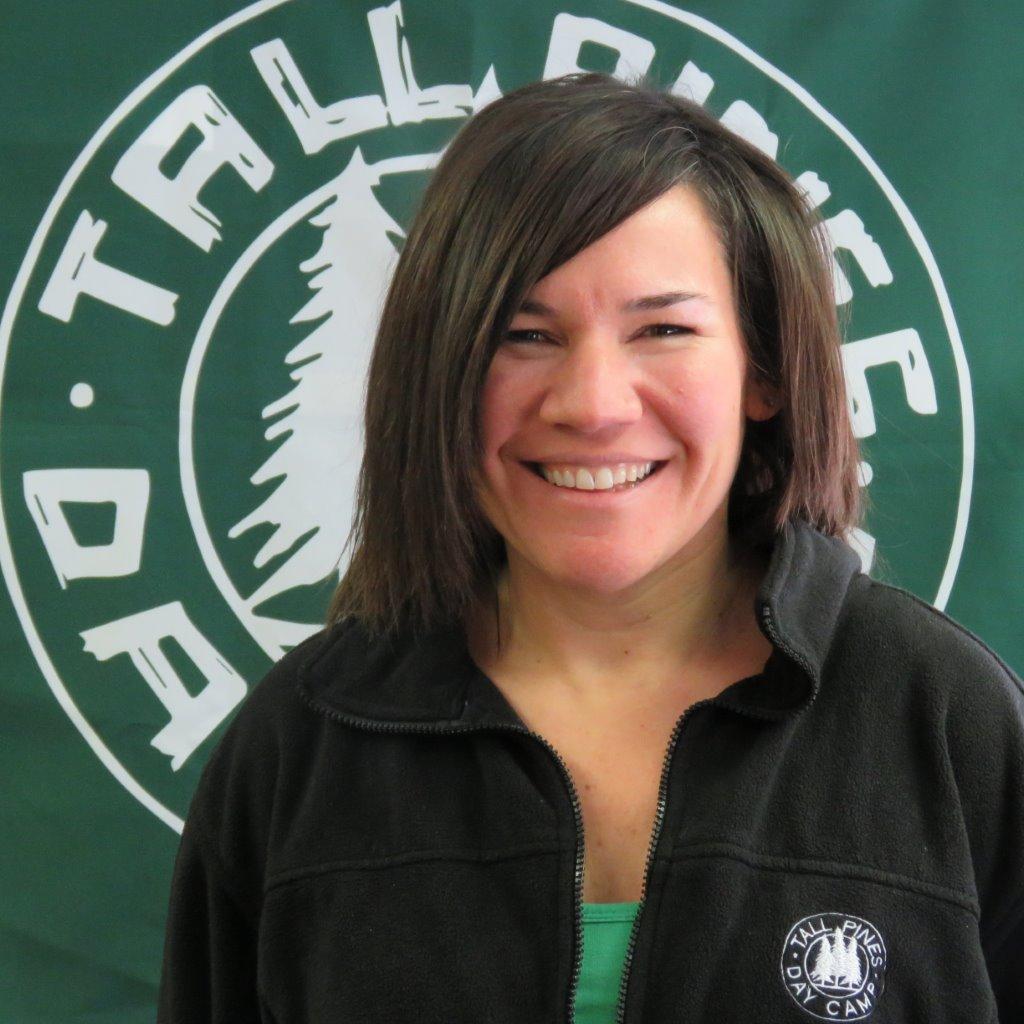 Rachel started working at Tall Pines Day Camp in the summer of 1996 as the Archery Assistant. The following summers she spent working as a Senior Counselor for both Junior Camp Girls and Boys before working as a Senior Counselor for Middle Camp Girls. In the summer of 2006, Rachel became the Assistant Program Director. Rachel finished out the summer of 2008 and then began raising her two daughters who currently attend Tall Pines. While Rachel was home, with the girls, her husband David continued to work at Tall Pines. Rachel and David met at camp and made history by becoming one of the first couples to meet at Tall Pines. Rachel returned to Tall Pines in the summer of 2015 as the Director of Middle Camp Girls.
Rachel has a Bachelor's Degree from East Stroudsburg University in Rehabilitative Services. She also has her Teacher of the Handicapped Certificate from Rowan University. Additionally, Rachel has a Master's in Reading from Rowan. Rachel currently teaches Special Education at Shawnee High School in Medford, NJ. She resides in Sicklerville with her husband and daughters.
---
Kristen DiCastelnuovo, Director of Junior Camp Boys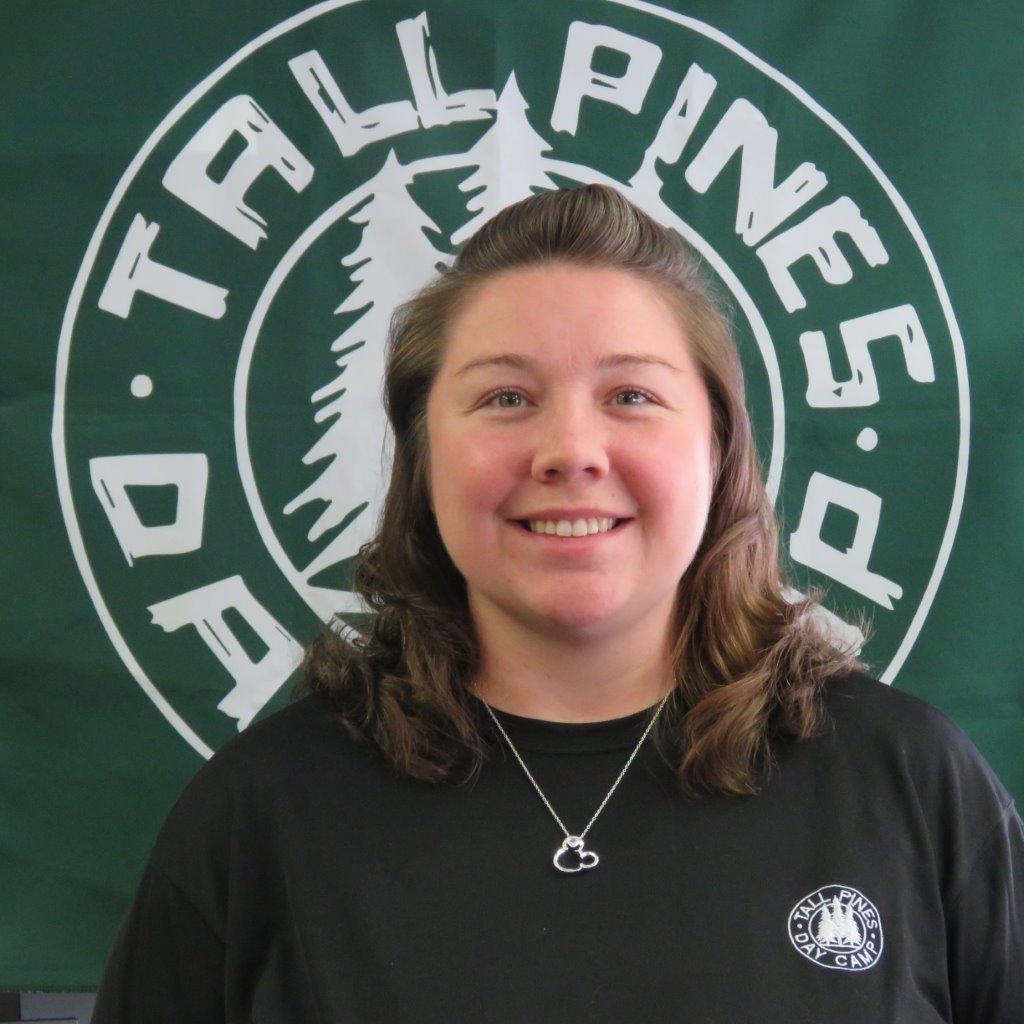 Kristen DiCastelnuovo started as a Junior Counselor at Tall Pines Day Camp in 1999 after her freshman year of high school. After four years as a Junior Counselor she eventually took over as the Senior Counselor of the Pinecone Boys. Even Kristen's younger brother worked at Tall Pines for nine years. Eventually she was promoted to the Director of Junior Camp Boys.
Kristen graduated from West Chester University in 2006, with a degree in Early Childhood and Special Education. She is currently a Special Education teacher at Thomas Jefferson School in Washington Township. She lives in Mantua with my husband and daughter. Her daughter attended Tall Pines for the first time in 2015 and will be a Pinecone in 2016! Only thirteen more years until she becomes a Junior Counselor just like mom!
---
Jamie McGuckin, Director of Junior Camp Girls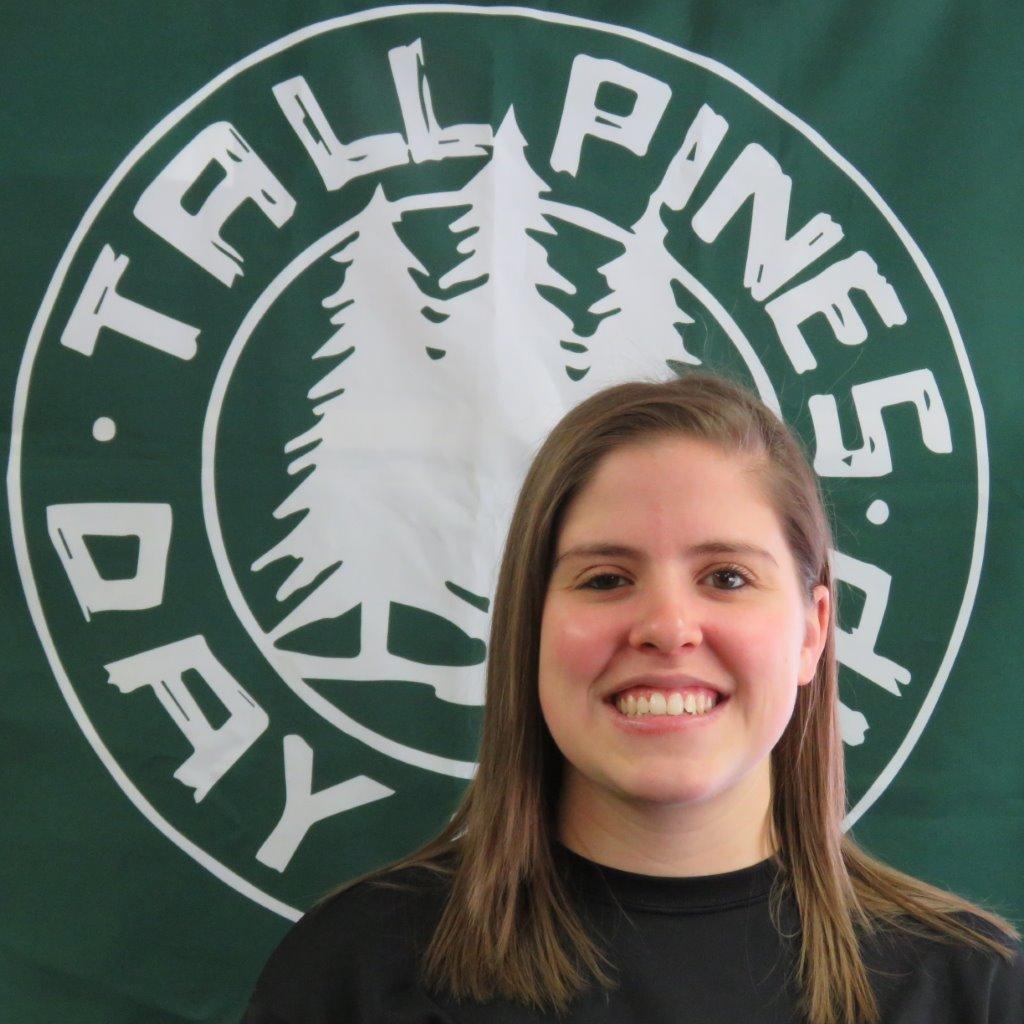 Jamie began at Tall Pines as a camper in 2000 at the age of 10. In 2005, she started her career as a Junior Counselor and won the Junior Counselor of the Year Award in 2006. After her freshman year of college she became a Senior Counselor and won the Senior Counselor of the Year Award in 2011. Jamie has worked in Junior Camp Boys every year of her career except one, in which she worked in Middle Camp Girls. She is the first camper to have ever been promoted to a Director's position.
Jamie graduated from the University of Maryland in 2012, with a Bachelor's Degree in Music Education. She is currently working at Our Lady of Hope Regional School in Blackwood as a General Music teacher. 
---
Kim Hinrichs, Office Manager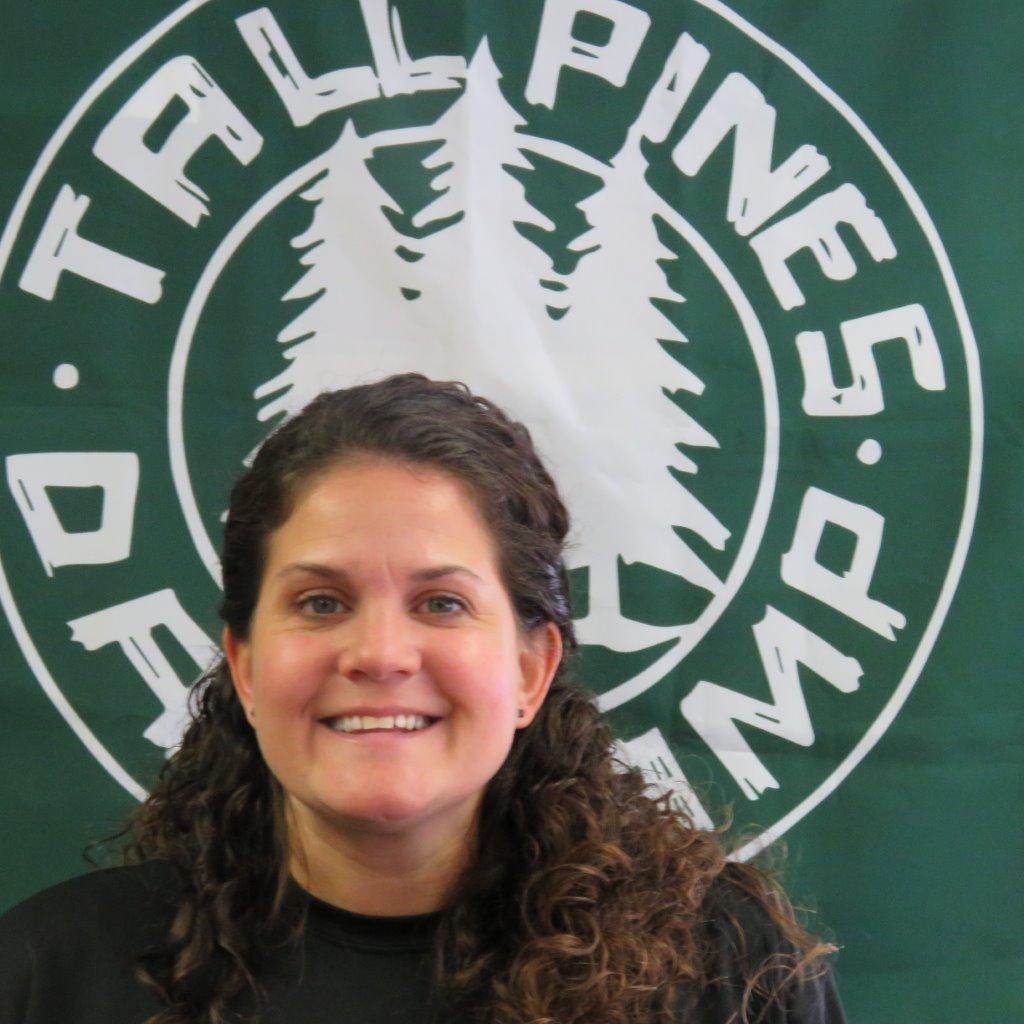 Kim is currently the Office Manager at Tall Pines Day Camp during the summer season.  She began working at Tall Pines in 1996. At that time she was a Senior Counselor but quickly moved to work in the office as the Assistant to the Director. Kim handled staffing and transportation issues and anything else that Uncle Andrew was unable to do by himself. She led and trained so many of  the weekend picnic staff.
During the school year she is a Special Education teacher in Washington Township where she grew up. She graduated from West Chester University in 1998 with a Bachelor's of Science in Education and Rowan University in 2008 with a Master's in Education in Teacher Leadership. She resides in Glassboro, NJ with her husband and three children.  According to Kim, "One of the great things about Tall Pines is that I get to spend my summer with my children that are both part of the staff and campers.
---
Paula Cattell, Food Service Director
Paula lives right here in Williamstown, NJ. This is her 14th year at Tall Pines. Before coming to Tall Pines she worked at another camp for thirteen years. Paula is ServSafe Certified and has taken numerous state and local courses on food safety, sanitation, allergies and Celiac disease.
When she started at Tall Pines her son worked with her in the kitchen and her daughter was in Sorority Club. Last year her daughter helped her run the kitchen. During the school year she is employed as a nursery school teacher in a private school.
Each year Paula looks forward to adding a few more healthy food choices.
---
Ed Douglas, Athletic Director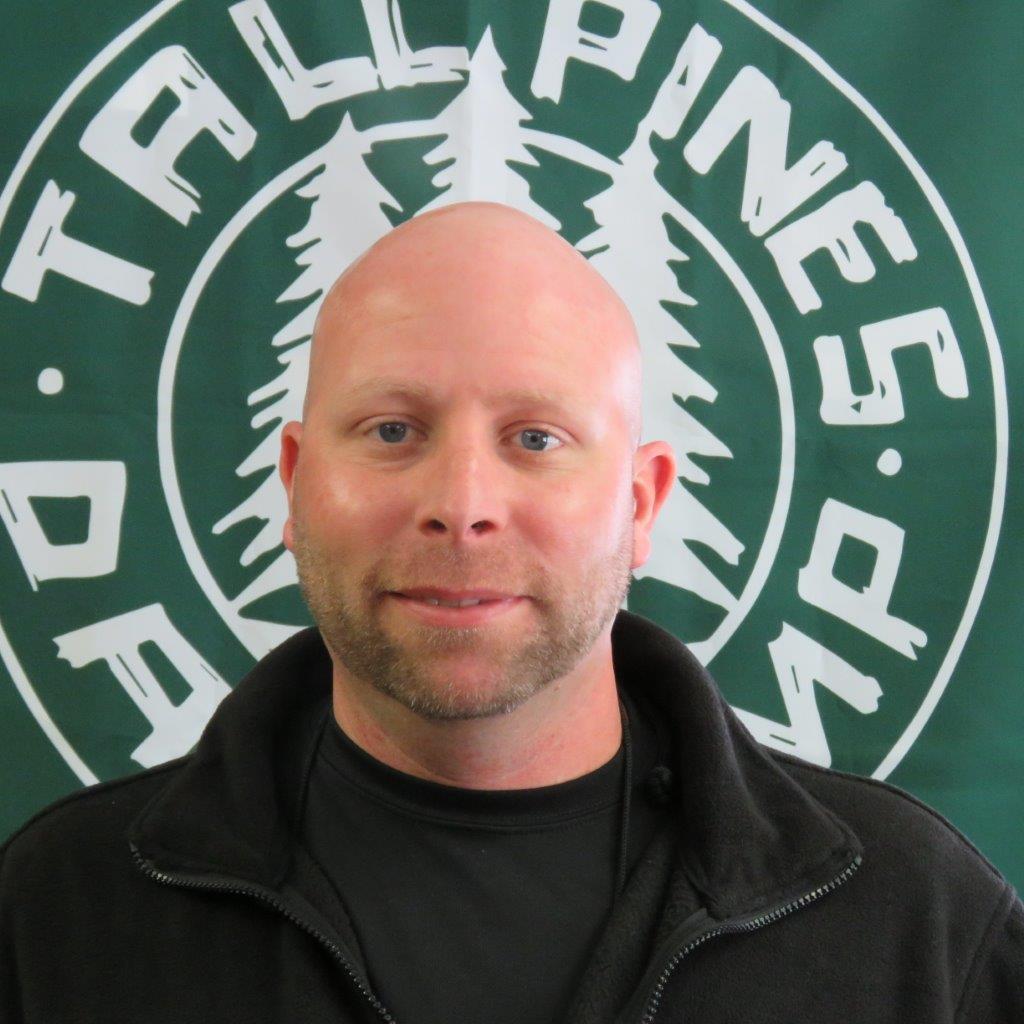 Ed began working at Tall Pines in the summer of 1998, as a Middle Camp Senior Counselor. After six years, he became the Soccer Specialist before eventually taking over as Athletic Director. Ed met his wife Karrie, our former Lacrosse Specialist, at Tall Pines.
After growing up in Williamstown, Ed earned his degree in Health and Physical Education from the University of Delaware. He is currently a Physical Education teacher and Athletic Director at Beck Middle School in Cherry Hill. He continues to coach as well. He resides in Marlton, NJ. His family has had many connections with Tall Pines over the years. He met his wife here, his brother worked here, and his two children currently attend camp and love every minute of it!
---
Karen Jacobs – Director of Horseback Riding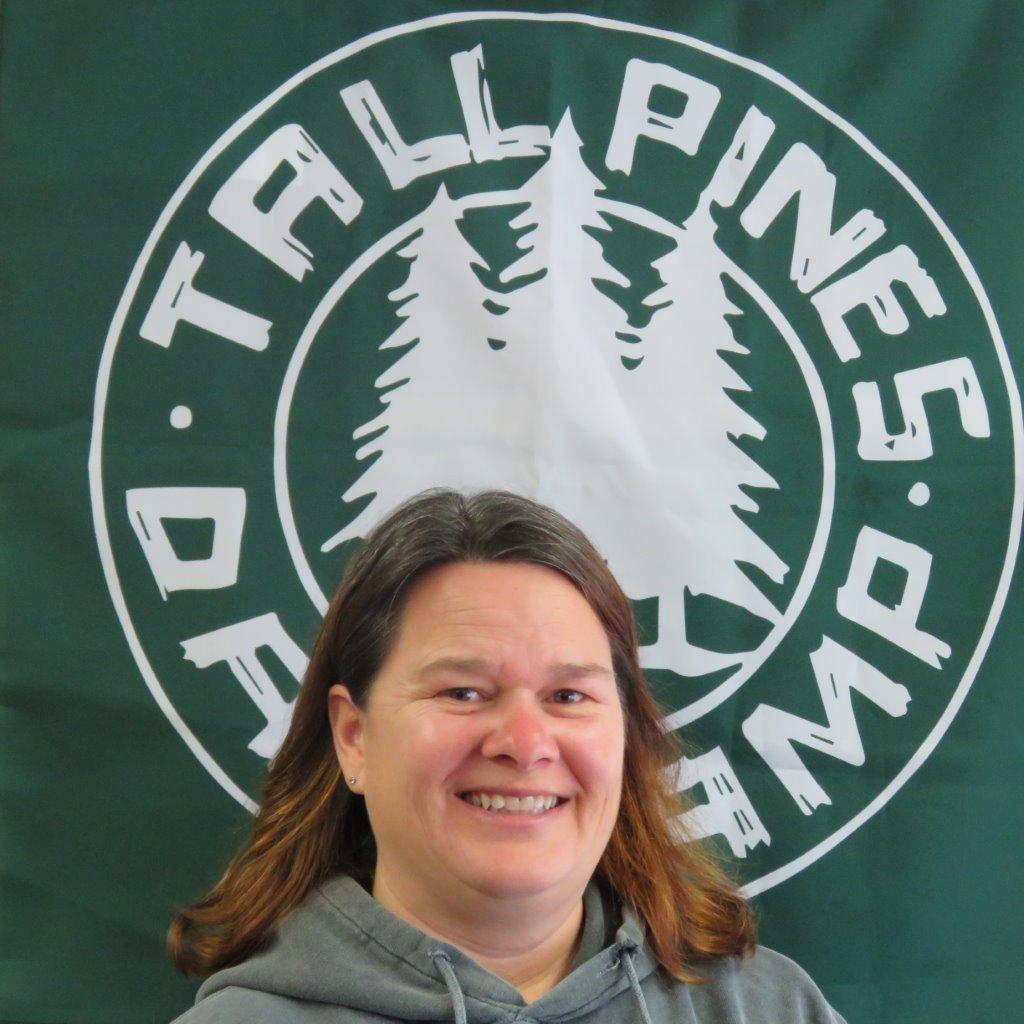 Karen's commitment to Tall Pines began in 1996, the first year, when she was part of the horseback riding staff. The following year she became the Horseback Riding Director. She credits Tall Pines for keeping her young at heart and giving her the opportunity to make many wonderful friendships with her dedicated staff members over the 21 years that she has directed the program. Her daughter Holly grew up at Tall Pines, spending every summer since she was six months old there. Her daughter is now a Junior Counselor at Tall Pines.
As an Air Force brat, Karen had the opportunity to travel and attend Girl Scout camps in many different places. While living abroad she was also able to foster her love of horses and horseback riding. After settling in upstate New York, she attended SUNY Morrisville and dual-majored in Equine Studies and Agricultural Business. Later, moving to New Jersey, she attended Rowan University where she earned her Bachelor's Degree in Special Education. Later, she earned her Master's Degrees in Student Personnel Services (Guidance).  Karen has taught special education at Voorhees Middle School for 21 years. She enjoys seeing many Voorhees Middle School students attend camp and mature into counselors. Karen continues to pursue her own riding goals with her horse of a lifetime, Dewey, who spent the summer of 2009 as a Tall Pines horse.
---
Mike Spano, Director of Facilities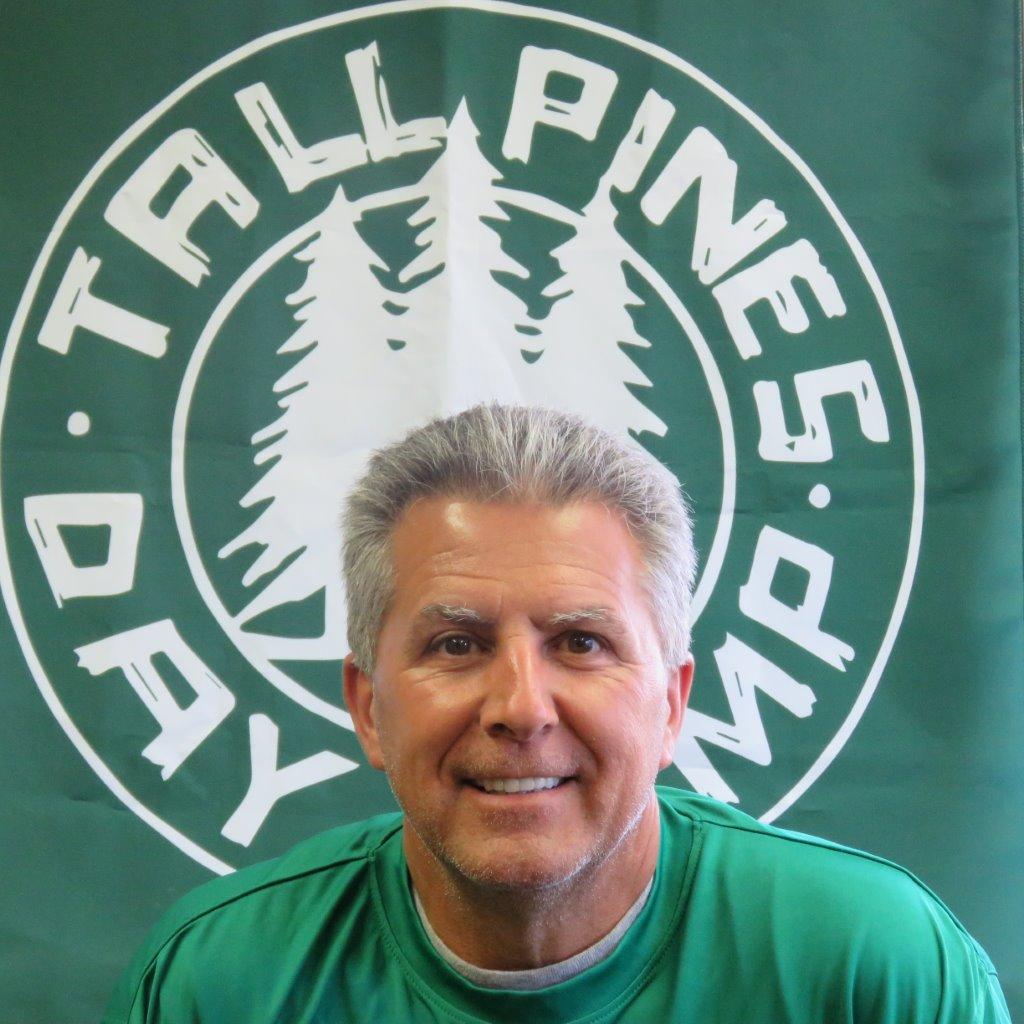 Michael Spano has served as the Director of Facilities since 2003.  Prior to joining the Tall Pines family, Michael was a self-employed contractor.  Since coming to Tall Pines, Michael has improved the facility greatly.  His contributions are too numerous to list but include renovating and covering the gaga courts, constructing a brand-new nature building, designing and building the miniature golf course, building food service pavilions, remodeling the gymnastics facility…and the list goes on.  Michael is also responsible for the year-round care and maintenance of the entire 66-acre property.  For Michael, the joy in his work is the pleasure and excitement he sees in the faces of the campers each summer. 
Michael's own two children, Mike and Amanda, were former campers and Tall Pines staff.  Michael is now a grandfather, and his grandchildren, Zion, Maya and Reid, are campers.  
Michael is married to Dana, a Middle School Principal in Monroe Township, and has two step-daughters, Alyssa and Ashlee, who also worked at Tall Pines.
---
Julie Wright – Pool Director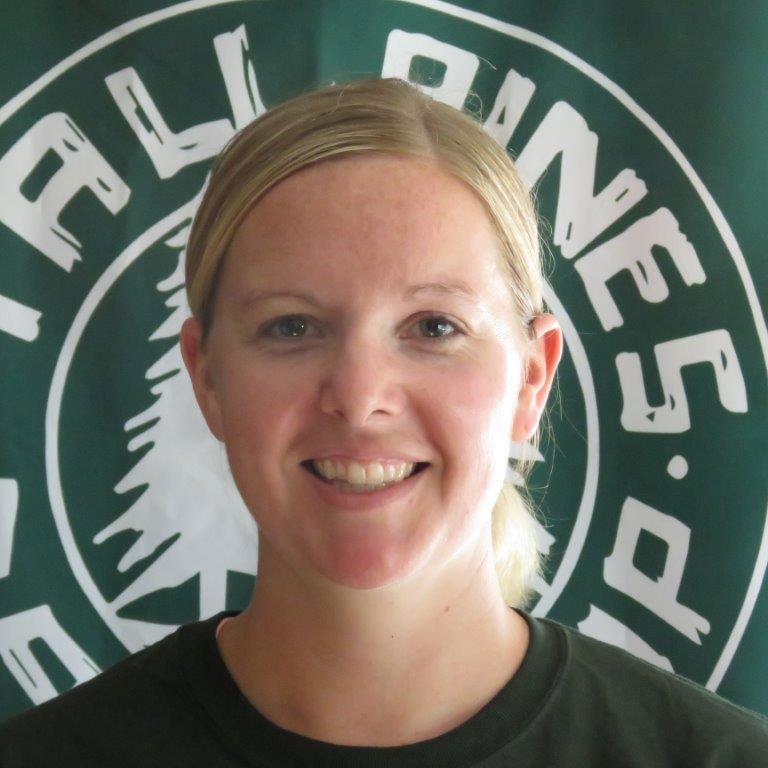 Julie began working at Tall Pines in 2004 while still in high school. She has always worked at the pool as a Lifeguard and Swim Instructor, and wouldn't have it any other way! "Teaching kids how to swim is always rewarding because I get to share in the excitement and joy of their success." Julie is excited about the promotion to Pool Director, and another fun summer.
Julie earned her Bachelor Degrees from The Richard Stockton College of New Jersey in Literature and Secondary Education. She is currently teaching English for Language Learners at Oakcrest High School in Mays Landing. After school, she also assists with the Oakcrest Drama Club and Stage Crew. She resides in Mays Landing with her husband and four year old English bulldog.